17 mars 2011
4
17
/

03
/

mars
/

2011
15:00
Some of these Irish recipes from the 'Emerald Isle' are part of Saint Patrick's Day worldwide celebrations :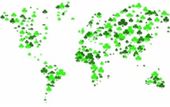 <<< from the BBC website
Celebrate St Patrick's day too with

traditional beef stew ,

soda bread
and

Baileys and chocolate cheesecake ... along with
twelve other St Patrick's recipes !
Yummy !

_________________________
Photos :
Irish stew : by Charles Haynes (Flickr) CC-BY-SA-2.0 soda bread : by Heather "Moria", CC-BY-SA-2.0 cheesecake : by Silar CC-BY-NC-SA-3.0
.