26 mars 2014
3
26
/

03
/

mars
/

2014
12:39
The map below shows about 190 "cinematic attacks" : Hollywood disaster movies have destroyed a great deal of U.S. cities, towns or regions (considering a broad definition of the "disaster" genre) :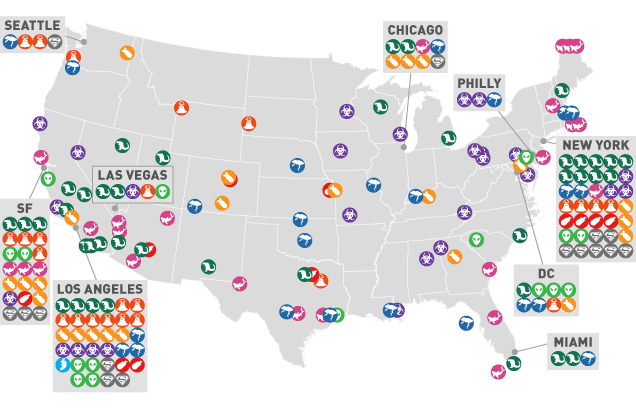 - Monster attacks

- Creature attacks

- Climatic events

- Geologic events

- Infections

- Mankind

- Alien attacks

- Space rocks

- Superhero battles

- Sharknado (= a tornado made up of sharks...

up to now, only one has been shot !)...
... are all located on U.S.A. maps -you can also view them all gathered on a unique map.
Besides, you get a list of the pinned films -with their release date, the specific location/city and the approximate location where the disaster took place in the film.
Click the illustration above to get the full article on
theconcourse.deadspin website