13 septembre 2009
7
13
/

09
/

septembre
/

2009
23:45
Hampton Court Palace was started building in 1514 for Cardinal Wolsey
I told you about this palace on your latest English lesson...
that's why I'd really like you to see what Hampton Court looks like :o)
In the beginning, Cardinal Wolsey was one of Henry VIII's favourites... but as he couldn't help accomplish the divorce between the King and Catherine of Aragon (his first wife) he
fell from grace
.
Hoping to regain the King's favour, the Cardinal then presented him his palace... But this failed too : in the late 1520's, Henry VIII finally kept it !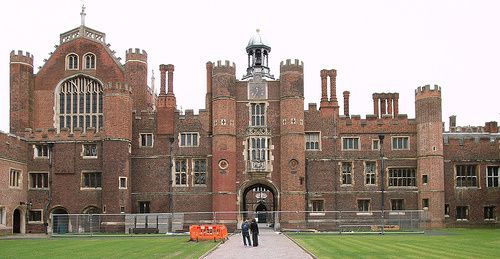 The above photo shows
Anne Boleyn's Gateway
and
the Great Hall from Base Court
.
Henry's had his second wife executed for adultery : today, Anne Boleyn is said to be one of the ghosts in the palace,
hence
her haunting Hampton Court corridors.
__________
The Fountain Court
by
Christopher Wren
(a famous English architect)
who modernized Hampton Court from 1689 to 1702.
__________
The south front and flower gardens
This photo highlights Hampton Court's huge size.
Nowadays it is open to the public and has become a major tourist attraction.
The British royal family hasn't lived in the royal palace since the 18th century.
Located
south west London, it is 11.7 miles (18.8 km) south west of Charing Cross and
upstream
of Central London on the River Thames.
_______________________________________________________________________________________
ca. =

circa

= about / approximately

(to) fall from grace =

do something which makes people in authority stop liking you or admiring you
hence
= that is the reason/explanation for
located = situated
upstream

=

en amont d'un cours d'eau (

stream

= courant)



(1)
http://www.flickr.com/photos/stevecadman/with/840772706/
:
Photos licensed under the Creative Commons BY-NC-SA by Stevecadman