21 décembre 2016
3
21
/

12
/

décembre
/

2016
12:36
WANTED :
Social Networkers' self-mockery ;o)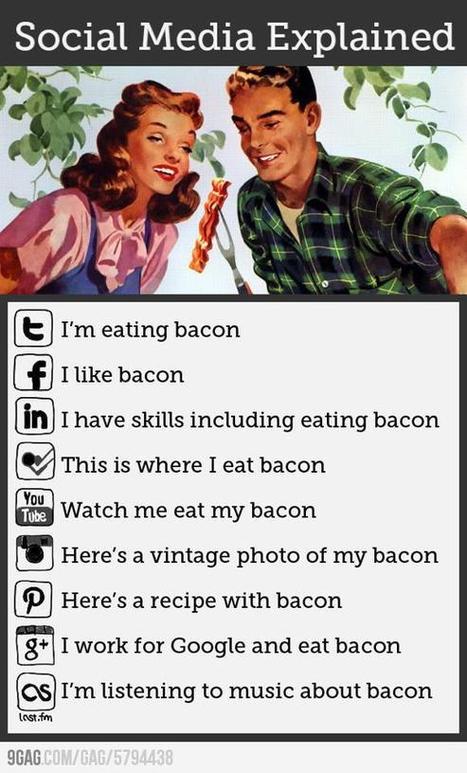 By kalokwong1 - on 9GAG.com, a fun sharing community
High School students & beyond :
Decode the reasons why the author of the poster has chosen each explanation... can you answer these questions?
Twitter : "I'm eating bacon"
How long are the messages displayed on Twitter? So, why is the verb "eat" present continuous?
Fbook : "I like bacon"
... hmmm. Nah, I won't help you! The answer's far too easy...
LinkedIn : "I have skills including eating bacon"
If you don't know this network, check what linkedin is... and you'll get the answer! The key-word is "skills".
Foursquare : "This is where I eat bacon"
Which is the key-word? 1st clue : this one helps to find places - 2nd clue : check it here!
YouTube : "Watch me eat my bacon"
... you know the answer-key comes with the word "watch", don't you?
. . . ?? : "Here's a vintage photo of my bacon"
Well, I give up : it's surely a photography social media, but I couldn't find what this logo corresponds to : if you can find the social media it represents, please tell me!
⇒ I knew you'd find it (1) : the logo shows Instagram's camera.
Pinterest : "Here's a recipe with bacon"
Why not explain what ' Pinterest' is?
Google+ : "I work for Google and eat bacon"
How does Google work -I mean how does it earn money? As a result... why does the poster tell that you work for Google whenever you use it on the web pages you surf?
Last.fm : "I'm listening to music about bacon"
Well, both "fm" and "listening to music" are clues to a proper answer : what can you do on this website? Who owns last.fm? You'll find the answer here.
Here you are : hope you've learnt a bit more on a few Internet social media networks and had fun :)
(1) : thanks to SteF